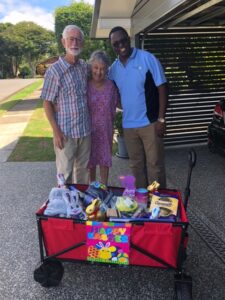 Happy winner of the Easter Raffle is ticket number 0619 is Glen and Gail Russell of New Farm.
They intend to donate chocolates and other children's items to the Hospital and some  items to be donated to flood victims.
Our enthusiastic friends at the Sushi Place, The Gap Village helped with the DRAW.
Thank you to our storage hosts:
Di O'Malley's Young Minds. for generously
providing convenient storage at The Gap.
Thanks also to our Shopping Centre Managers:
Theresa Wilson of Raine and Horne, The Gap.
Gavin Moore of McGees Property – Ashgrove.
Great effort RCATG well done!