COVID-19 has restricted Rotary activities in recent months. Regular meetings have resumed as normal at Ashgrove Golf Club with appropriate restrictions on room social-distancing limits. Our youth development programs will get going again in Term 3, we hope to recommence wheelbarrow raffles and Bunnings BBQ's soon, and we are optimistic that the Santa Sleigh will run again in December.
We have not been idle during this time.  Over the past few months we have donated funds to community organisations to help them continue working during these challenging times. With the co-operation and assistance of the Star Discount Pharmacy, The Gap, we collected toiletries for the homeless.  We have also provided assistance to the Rotary Club of Brisbane Rivercity's Community Table initiative.
Help for the Homeless 
This year has been particularly difficult for homeless and disadvantaged people in our community.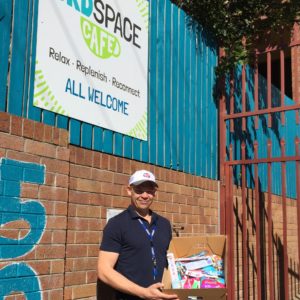 "3rd Space" located in Fortitude Valley, provides assistance to homeless and other people in Brisbane dealing with disadvantage.  For more information about the work undertaken by the 3rd Space go to https://3rdspace.org.au.  One of many areas of need identified by 3rd Space was the need for toiletries for their clients.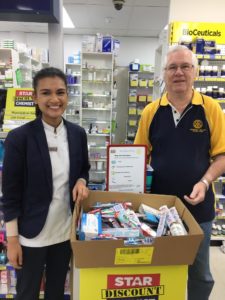 With support from Star Discount Pharmacy, The Gap, a collection box was set up inside the store for members of the public to donate toiletries, such as, soap, deodorant, shampoo, conditioner and other personal items.
Thanks to the donations from customers of Star Discount Pharmacy, from the pharmacy and from Rotary Ashgrove The Gap, we have been able to deliver several cartons of toiletries to 3rd Space for distribution to homeless people.
 Community Table – Feeding the Homeless
In recent months, the number of unemployed and unsupported people in Brisbane has skyrocketed. This ABC article highlights the seriousness of the problem. https://www.abc.net.au/news/2020-06-28/brisbane-charities-demand-for-food-queensland-coronavirus/12392374
Numerous charitable organisations have initiated, or increased programs, to feed people who are struggling to feed themselves and their families. "Community Table" is just one of them. An initiative of the dynamic Brisbane Rivercity Rotary Club and Brothers in Need, to feed homeless and other people suffering disadvantage.
Here is an example of what connection and co-operation can achieve.  Fare Share is a volunteer organisation that rescues surplus food and cooks free, nutritious meals for people doing it tough.  Quality ingredients are supplied by Foodbank Queensland.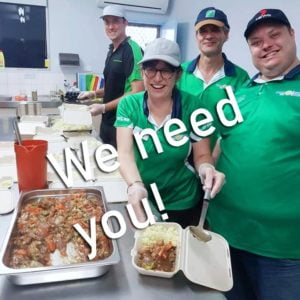 Every Friday, 60kg of precooked bulk food is collected from Fare Share and delivered to the Woollongabba Community Centre where it is placed in cold storage.  On Sundays the food is heated and packed, ready for distribution to homeless and other people suffering disadvantage in Brisbane.
Members of Rotary Ashgrove The Gap answered the call to help members of the Brisbane Rivercity Rotary Club and Brothers in Need but assisting with collecting the cooked food from Fare Share, heating and packaging of meals ready for distribution later, on Sunday evenings.
In addition, some members have been baking biscuits and slices which are packaged up and distributed with the meals.
Rotary Ashgrove The Gap is proud to be able to provide some assistance to this great initiative.
More information about Fare Share  and Brothers in Need  to  https://www.fareshare.net.au/brisbane,  and  https://brothersinneed.org.au/
Cash Donations for Local Community Groups
Ashgrove/The Gap Rotary raises money from the community from raffles, Bunnings sausage sizzles and Santa Sleigh. 100% of the proceeds is used for local, national and international community projects. This year our ability to raise funds has been limited by COVID 19, whilst the needs of community have increased.
The decision was made to use some of our "rainy day" reserve funds to support local organisations who have continued to provide "hands-on" services to disadvantaged groups during the COVID-19 crisis.
Recently, we have donated $14,000 to several such organisations, including:
$2000 – Salvation Army recovery service
$2000 – Zephyr Education (for children trying to rebuild their lives after fleeing domestic violence)
$2000 – Picabeen Community (food parcels and emergency relief)
$1500 – Orange Sky Laundry (for the homeless)
$2000 – St Vincent de Paul (food vouchers and emergency financial assistance)
$2000 – Immigrant Women's Support Service
$2000 – Brisbane Domestic Violence Service
$500 – 3rd Space (support for the homeless)
A New Home for our BBQ Trailer and Santa Sleigh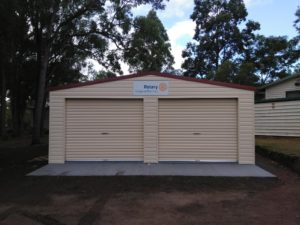 After many years of temporary storage, in several location, we now have our own secure, accessible space in which to store our BBQ trailer, Santa Sleigh and other Rotary club equipment.
This was achieved through the use of grant funds and support from Brisbane City Council and the Federal government, Ashgrove/The Gap Rotary has been able to build a shed in the grounds of the Ferny Grove Tramway Museum.
International service
Ashgrove/The Gap Rotary continues to provide financial and hands-on support to major Rotary projects including Polio Eradication, and to Donations in Kind (hospital and educational equipment for our Pacific neighbours).
In 2020 we provided over $1000 for a new printer/photocopier at Kikapu school, Kenya, delivered by members of the nearby Rotary Club of Nakuru. We have also committed $1000 towards a multi-club initiative to provide PPE equipment for Goroka Hospital in PNG.